Distressed Property Spanje
Wat zijn de verkoop van noodlijdende eigendom?
Verontruste woning ales zijn eigenschappen die snel moeten worden verkocht en dit kan voor een aantal verschillende redenen. Normaal gesproken, en vooral in de huidige tijd - de belangrijkste reden voor distressed onroerend goed verkoop komt op de markt is te wijten aan de eigenaar niet in staat om gelijke tred te houden met hypotheeklasten die in de voorwaarden werden vastgesteld door de bank, kan de hypotheeklasten ook in verzuim met de eigenaar geconfronteerd met mogelijke repossession by the bank indien de betalingen niet zijn betaald-to-date.
Verontruste Eigendom te koop kan ook te wijten aan persoonlijke redenen, familie, werk, gezondheid ... er zijn vele redenen waarom een pand een "distressed eigendom" kan worden.
Waarom de aankoop van een verontruste Eigendom te koop?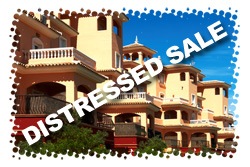 Ten eerste, dit soort eigenschappen, de meeste wel dan niet, zijn onder de marktwaarde, de prijzen kan worden onderhandeld en afhankelijk van de ernst van de eigenaren situatie - duizenden kunnen vaak worden opgeslagen. In onze eigen persoonlijke ervaring van de verkoop van noodlijdende eigendom, kortingen tot 20 - 30% van de echte bank waardering van het pand zijn niet ongezien vandaar de reden het kopen van noodlijdende onroerend goed in zo'n grote vraag.
Win, win situatie met verontruste onroerend goed ...
Niet alleen de kopers krijgen een goedkoop onroerend goed, maar ook de verkoper krijgt om hun woning snel te verkopen die afhankelijk van hun omstandigheden hen duizenden zou kunnen besparen als het goed is in risico te worden teruggenomen, of als het om persoonlijke redenen - het pand is een ding minder zorgen te maken over.
Waarom dan niet de aanschaf van een bank terugneming?
Eenvoudig, in tegenstelling tot noodlijdende onroerend goed, bank inbeslagnames zijn niet altijd zo goedkoop als je eerst zou denken, het hangt allemaal af van hoeveel de desbetreffende goederen dankt de bank van de uitstekende hypotheek die werd verworven in de eerste plaats om de woning te kopen. Dan, hier in Spanje zal je ook moeten administratiekosten die ongeveer 10% van de waarde van het onroerend goed, die moeten worden betaald aan de bank zal betalen.
Als u op zoek bent naar een onder de marktwaarde eigendom of een verontruste onroerend goed - waarom niet contact met ons vandaag en één van onze medewerkers in staat om u te adviseren over welke eigenschappen te koop zijn en welke eigenschappen zijn binnen uw budget zal zijn.
Neem contact met ons op
Address – Calle Clemente de Gosalvez 28b, 03180, Torrevieja, Alicante, Spain.
Telephone – (0034) 965 714 031 or 0870 301 98 73 (Charged at the cost of a UK call)
Moet u verkoopt uw woning snel?
Moet u uw woning aan de Costa Blanca ten zuiden snel te verkopen als gevolg van een persoonlijke of financiële probleem?
Waarom niet een kijkje nemen op onze pagina "Sell Property Spain", in het aanvraagformulier vullen en één van onze medewerkers zal spoedig contact met u doen bespreken marketing uw eigendom.
Neem een kijkje op de eigenschappen die wij te bieden hebben aan de Resale Centre, een uitstekende selectie van de bank inbeslagnames, distressed eigendom en uiterst goedkope Huizen !